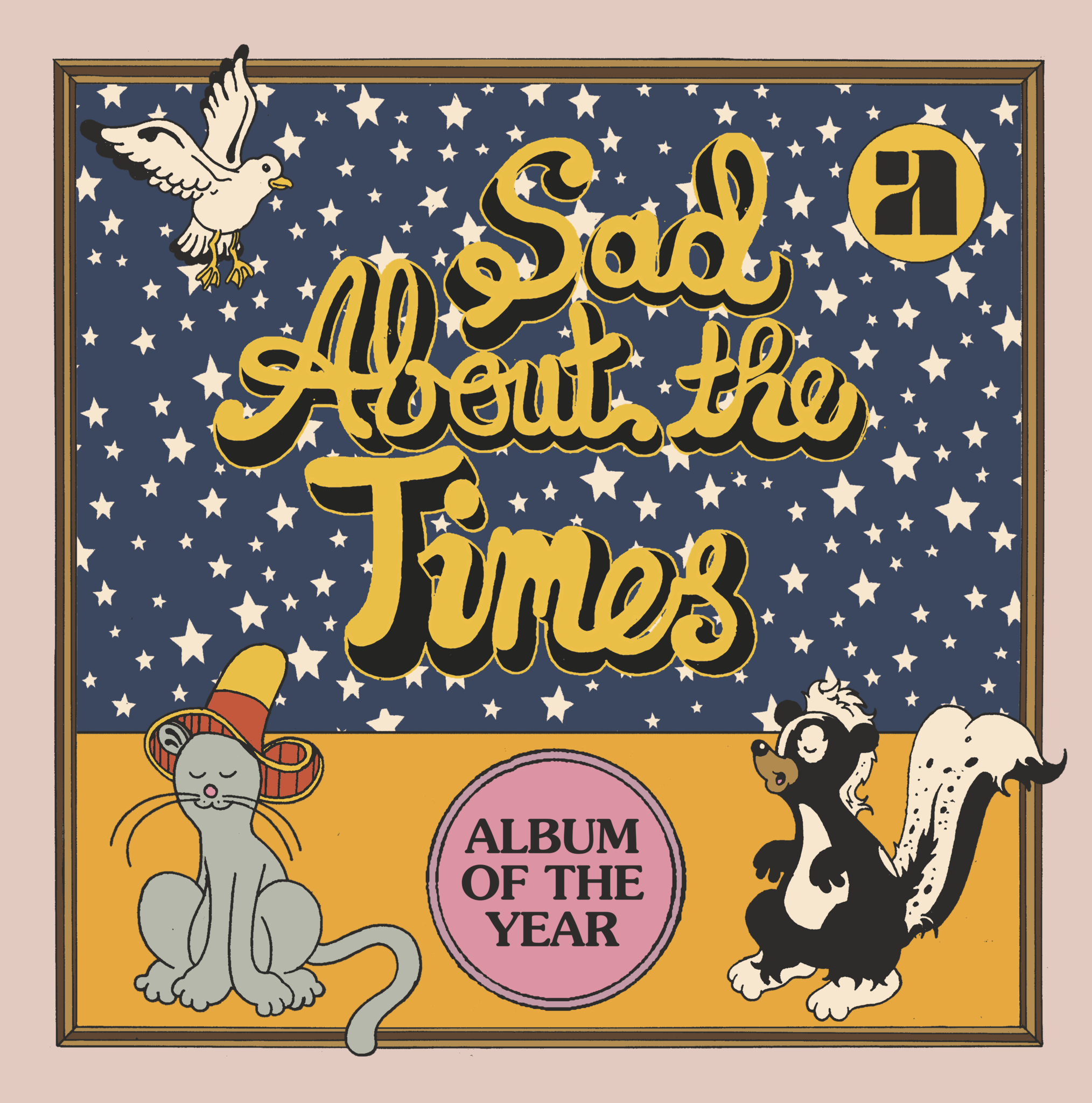 So here it is, our number one album of the year, the wonderful Sad About The Times.


Imbued with a sense of "sad bliss", this compilation of could-have-been-hits from 1970s North America drifts between acid folk strummers, soft rock whispers and jangly psych jammers, all crowned with entirely unique vocal performances. Every track tugs on the same very specific heart string, triggering an emotion familiar but difficult to describe.

Sad About The Times is one of those records that permeates your subconscious, floats around with you and plays in your mind when you're at your most contemplative or wistful. We haven't been able to get the music contained on these two discs out of our heads since its release back in May, it truly has soundtracked our 2019 — both in the shop and in our personal lives.

But--but--!! A compilation! That's cheating! And you did it last year too! Well, a good record's a good record in our books, full stop. We even loved this one so much we had to go beggin' to the good folks at Anthology to do our own special pressing. On pink vinyl, naturally. Super duper limited to 100 copies and only available right here.

To celebrate, our Sonny reached out to chat with the comp's two legendary creators:

A) Mikey Young, whose name will be splattered all over the record collections of anyone with any interest in Australian DIY music from the past decade or so, either as a recording/mixing/mastering credit or in the line-up of his bands Total Control and Eddy Current Suppression Ring.

B) Keith Abrahamsson, the Brooklyn NY based founder of both Mexican Summer (who have recently released LPs by the likes of Cate Le Bon, Jessica Pratt and Allah Las) and reissue label Anthology Recordings (releases include Linda Perhacs, Träd Gräs Och Stenar and Pharoah Sanders.)

Why not have a listen along while you read what they had to say. (Please note that the double LP has a different running order including some unmissable extra tracks!!)
Sonny
:
Hey Mikey and Keith, congratulations on
Sad About The Times
being our Album of the Year! We were all really excited to hear about a follow up to the wonderful
Follow The Sun
but didn't quite expect to be as completely blown away by it as we were!
Follow The Sun focused on Australia and Sad About The Times looks to North America, but both envoke such a similar and specific feeling throughout that Mikey summed up well as "sad bliss". To me it feels like both albums were simply (successful) attempts at bottling that emotion and pressing it onto wax. Did you approach this second compilation in a different way at all to the first? Was it always the plan to follow up with an American version?
Keith

:
Hey Sonny -- I think we approach these records in the purest way possible -- just as music fans/friends sharing and discovering.  As luck would have it, Mikey and I have a pretty identical sweet spot, which is the kinda stuff you've heard across both comps.  We pretty much stumbled into the Follow The Sun comp and just shared music for a year or so before finally seeing it to fruition after a second year.  That was pretty fun, so we did it again, but I wouldn't say it was always the plan.  And it was pretty much the same formula both times, haha.  Just an insanely long email thread and then a slow process of elimination til we landed on a suitable sequence.
hey all
 I was actually surprised when Keith asked me to help with SATT. I was real happy with FTS but wasn't sure how it went and figured it might be a one off. Also, I'm no American and thought who the hell am I to be helping choose their songs. I guess Keith and I's tastes meet real nicely though, with enough of a difference to keep it interesting. I feel sometimes I drag it down with too many bummer jam suggestions!
The process was the same for each but SATT  had a much bigger pool of music to choose from, which lead to a lot of late obsessive nights.
The overall vibe and feeling was an afterthought but having done  FTS  helped me understand what would be a good fit.  I think we are both pretty conscious of keeping enough variation so it's not too uniform but  holds together somehow and flows well. 
Sonny
:
So Keith did you go to Mikey with specific tracks in mind? What were the first 'definites' for the compilation?
Keith

:
It went both ways for sure.  I think I started a thread for SATT and shared a handful of jams w/ Mikey and from there it was a healthy back-and-forth.  Here's the first email from October 2017:
dude -- how are you?  man, been dreaming up some ideas for another comp... would you be down?  
i'm not entirely sure what direction to take it, but I do love these tracks, which all have a melancholic, byrds-ian kinda flavor and all hail from North America.  Not married to anything though... wanted to just see if you were down to maybe jump into another project together!
k
That Morning cut 'Sleepy Eyes' cut fits nice in there....
There's there's these classics...
Sonny

:

Ahh cool! You're already getting onto my next enquiry - tracks that didn't make it onto the final tracklisting for whatever reason.
Mikey - No doubt there's a reason that the addressee's name is left off, but it's been bugging me ever since opening my copy of the record up for the first time; the heartfelt letter to a mystery musician you penned that's reproduced on the inner sleeve - what's the mystery track?! The people need to know! x
Mikey
:
ha. I just thought it was fun that way. I dont want people thinking too much on what the comp could have been if only for this and that. I'd rather it feel complete on its own and the mystery stays that way. some deep deep internetting might figure out the answer :)
Sonny

:
Hehe I thought you might do that. Well, it's a great metaphor for the album - a love letter. And the mystery definitely adds to the bigger picture feeling that the comp is just a snapshot of an incredible time and place, the feeling that you could've angled your lens slightly differently and still captured a similarly compelling view of it. Like all good comps it gets you excited to go out and do your own research, I think !
The letter's also laid out beautifully, as with the rest of the LP package.
Brian Blomerth
's artwork is a perfect match, vibrant and nostalgic. Could you tell me about working with him? Did you give him much of a brief?
Keith

:
Brian was someone I knew about via a mutual friend/co-worker.  I had seen some of his comics and also this
hilarious clip
of him and his friends going on Judge Judy.  We actually just put out a book with Brian as well -- his first -- an illustrated novel of
Bicycle Day
(when Albert Hoffman discovered acid).  Anyhow, working with him is a dream -- he's incredibly laid back, but hard working.  I did send him a bunch of stuff as inspiration, the main thing being the Bob Zoell illustration on the back cover of Todd Rundgren's Runt LP, which he kinda came up with his own version of for the back cover of SATT. 
Mikey

:

damn that Judge Judy clip is fantastic
Sonny

:
Hehe, "Alright mama."
The photo of Norma Tanega holding her copy of the record and beaming with pride is so sweet! Did you manage to get copies to many of the other musicians? Have you had any correspondence or response from any of them since its release?
Yeah, it was a real joy to meet Norma -- such an amazing woman.  We've gotten copies to and corresponded with many of the artists - Boz Metzdorf, Oliver klaus, David Chalmers, Randy & The Goats, the Art Lown family, Scott Fraser's (of Space Opera) family, etc.  Everyone was very positive on the whole thing...
Sonny

: 
Finally, tell us about the future! Any possibilities of looking at another country for a third entry in this compilation series?
Mikey, anything you're working on at the moment that you're particularly excited about, be it your own music or production/mastering wise? We're big fans of
You Feelin' Me?
here!
Mikey

:
I'd love to work on another one. It's pretty damn addictive and rewarding.
I think I get more stoked receiving positive feedback from these than I do any of my own projects. Sharing music feels good!
I have some solo things scattered around that I may do something with, maybe just a.tape, hopefully finish another Green Child record early next year, Total Control are starting to get busy again and I just recorded an album with my new band Power Supply that I'll finish as soon as I get some time over the summer. Hopefully 2020 turns out to be a  productive year

Keith

:

Yo Sonny!  Yeah, we've been starting to kick around some new ideas for the new volume... :) it's in its infancy, but so, so excited to do another one.  I feel the same as Mikey...
New MS/ARC stuff comin' up -- there's lots...!  I'll just highlight a few...  we have the ongoing Ariel Pink archival project we've been cookin' up for awhile now.  There's a lot of records still to come, highlighting the early classics (Doldrums, Worn Copy, etc) and a bunch more unreleased collections.  We've been working on an archival project w/ Cass McCombs working towards releasing music (recorded across the 70s) from the late/great actress, Karen Black - that'll come next year.  And FINALLY, we'll have our 13th Floor Elevators book out next year.... many years in-the-works, it's a definitive visual history...!  And much more...