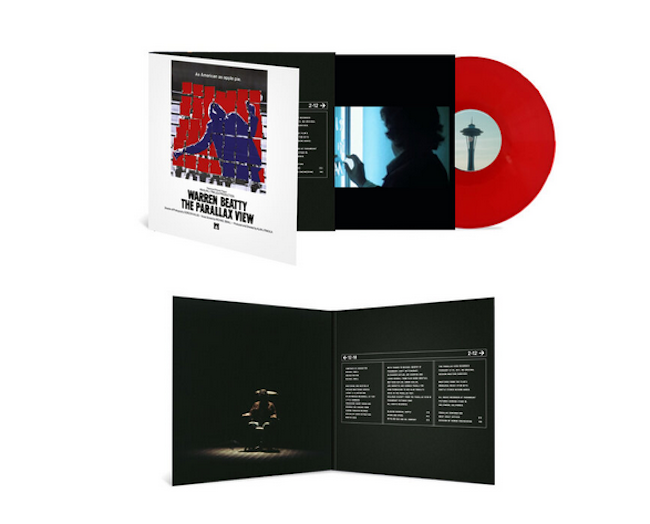 Michael Small - The Parallax View OST (Coloured Vinyl)
Limited Edition Deluxe Gatefold Red Vinyl (500 Copies).
The good folk at Cinema Paradiso Recordings release the soundtrack to the motion picture The Parallax View, on vinyl for the first time ever. The legendary score by composer Michael Small is regarded as a benchmark in the sound of paranoia thrillers that dominated cinema in the 1970s, with revered film critic Pauline Kael hailing the film as an essential for all fans of the genre. Now, 47 years later, the soundtrack will finally be available to own on vinyl.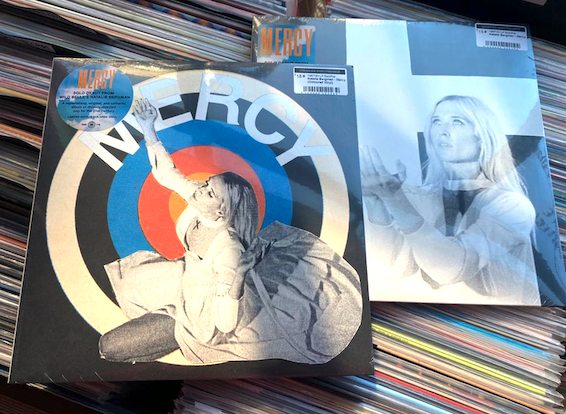 Natalie Bergman - Mercy (Coloured Vinyl)
Opaque Blue LP in alternate artwork sleeve via Third Man Records. While many know Bergman as one half of brother-sister duo Wild Belle, her forthcoming record is a cathartic collection rooted in the hopeful values and traditions of gospel that have helped her through the recent, tragic loss of her father.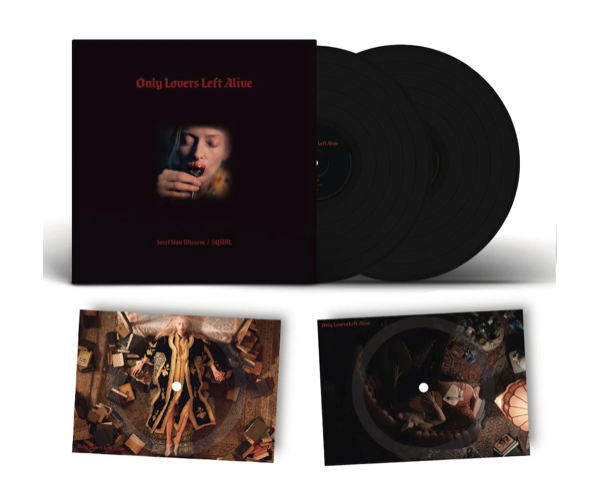 Jozef Van Wissem / SQÜRL - Only Lovers Left Alive
Each order comes with a bonus flexi postcard, featuring an iconic Tilda Swinton audio sample from the film, on one of two great designs, chosen at random. The designs will be mailed at random while supplies last. The score for Only Lovers Left Alive - a collaboration between SQÜRL (Jim Jarmusch, Carter Logan and Shane Stoneback) and Dutch lutenist Jozef Van Wissem - serves as a reflection of the distinct textures of Detroit and Tangier, bridging ancient and modern sounds, entangled and timeless.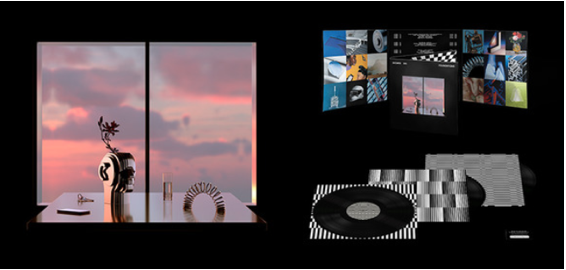 Various - Deewee Foundations
Deewee, the label from Grammy-nominated artists David and Stephen Dewaele AKA Soulwax / 2manydjs, release Foundations, their 50th release and first compilation album. 27 tracks including 3 brand new exclusive works are beautifully presented across triple LP. It's an expression of the values of a musical family with the brothers at its heart and featuring their creative input throughout.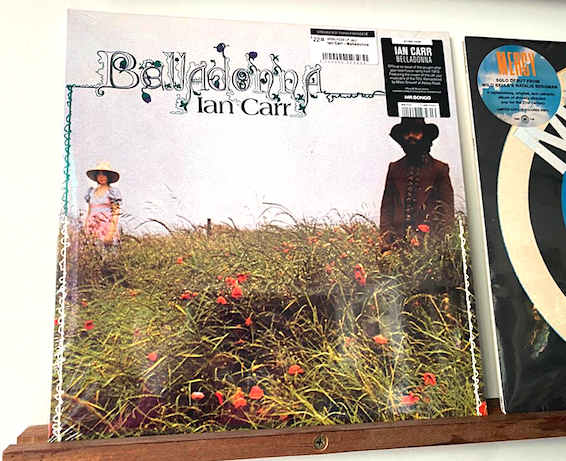 Ian Carr - Belladonna
Official half-speed mastered re-issue of British trumpeter and bandleader Ian Carr's iconic jazz-fusion-rock hybrid Belladonna from 1972. Originally released on the Vertigo label, complete with collectable 'swirl' record centre design, this sought-after jazz-rock-fusion rarity features some of the cream of the UK jazz scene of the 70's.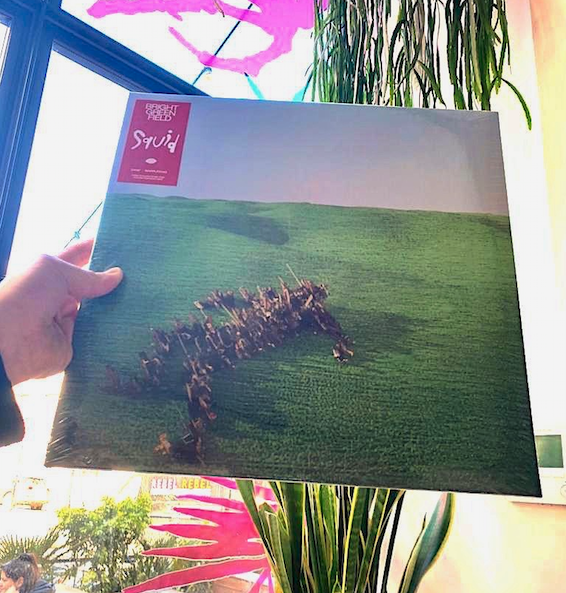 Squid - Bright Green Field (Coloured Vinyl)
Indies Exclusive Double Green Vinyl. Bright Green Field, produced by Dan Carey, and released by Warp Records. It's an album of towering scope and ambition, it is deeply considered, paced and intricately constructed. With all band members playing such a vital and equal role, this album is very much the product of five heads operating as one.

Lungfish - Love Is Love (Coloured Vinyl)
This is Lungfish's 10th full-length album, originally released in 2003. Love Is Love has been remastered & pressed on limited red vinyl via Dischord Records.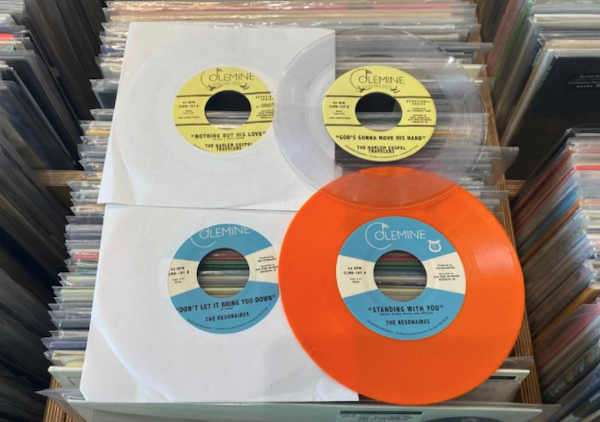 Colemine Records keep up their good work with a couple of limited 7"s

The debut single from The Resonaires! A group featuring members that have been apart of some of the pivotal artists of the soul revival movement: Sharon Jones, Charles Bradley, Lee Fields. Now striking out on their own with the powerful vocals of Saundra Williams. Opaque Orange vinyl. Also a new tune from The Harlem Gospel Travelers brings a note of positivity in your life. Nothing But His Love was part of their Brighter Days Ahead campaign, the goal being to provide folks with new music while looking forward to better days in the future. Clear vinyl.

All available for shipping and click n collect.

-------


NEW RELEASES BY GENRE


Rock / Pop / Alternative
Natalie Bergman - Mercy
Natalie Bergman - Mercy (Coloured Vinyl)
Connan Mockasin - Caramel (Coloured Vinyl)
Connan Mockasin - Forever Dolphin Love (Coloured Vinyl)
Flat Worms - The Guest b/w Circle
Goat Girl - Sad Cowboy (Remixes)
Iceage - Seek Shelter
Iceage - Seek Shelter (Coloured Vinyl)
Angel Olsen - Song of the Lark and Other Far Memories
Rosali - No Medium
Sorry - Cigarette Packet / Separate
Squid - Bright Green Field / SIGNED BOOKLET Bundle
Squid - Bright Green Field / SIGNED BOOKLET Bundle (Coloured Vinyl)
Teenage Fanclub - Endless Arcade (Coloured Vinyl)
Ved - Ett visst fängelse
Amy Winehouse - At The BBC

Electronic
India Jordan - Watch Out!
Jose Manuel - Janara
Various - Deewee Foundations

Jazz
Ian Carr - Belladonna
Dexter Gordon - One Flight Up
Jorge López Ruiz - El Grito (Suite Para Orquesta De Jazz)
Chester Thompson - Powerhouse
Various - Sampled Jazz

Funk / Soul / Hip Hop / Reggae
The Harlem Gospel Travelers - Nothing But His Love (Coloured Vinyl)
Lava La Rue - Butter-Fly
Tkay Maidza - Last Year Was Weird Vol. 2
Gratien Midonet - A Cosmic Poet Revisited
Mother Freedom Band - Cutting The Chord
The Resonaires - Standing With You (Coloured Vinyl)
Various - Sampled Funk
Various - Studio One Roots (Coloured Vinyl)

African / World 
DJ Black Low - Uwami
Manu Dibango - Afrovision
Ziad Rahbani - Bennesbeh Labokra…Chou?

Soundtracks
Devonte Hynes - We Are Who We Are (Original Series Soundtrack)
Michael Small - The Parallax View OST (Coloured Vinyl)
Jozef Van Wissem / SQÜRL - Only Lovers Left Alive
Jozef Van Wissem / SQÜRL - Only Lovers Left Alive (Coloured Vinyl)

Blues / Folk / Americana
Daniel Bachman - Axacan
Bobby Lee - Origin Myths
Various - American Patchwork

Psych
Gnod - Easy To Build, Hard To Destroy
Gnod - Easy To Build, Hard To Destroy (Coloured Vinyl)
Hills - Frid (Coloured Vinyl)

Punk / Post Punk
A Certain Ratio - ACR:EPA (Coloured Vinyl)
The Durutti Column - Circuses and Bread (Coloured Vinyl)
Fugazi - Fugazi (Coloured Vinyl)
Lungfish - Love Is Love (Coloured Vinyl)
New Order - Education Entertainment Recreation
Screamers - Screamers Demo Hollywood 1977
-------
RESTOCKS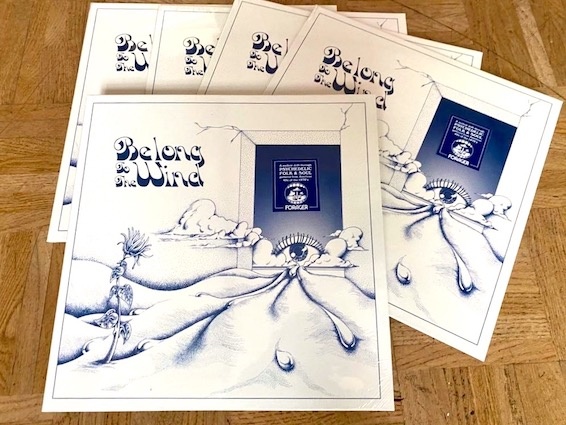 Various - Belong To The Wind
We have more copies of this special compilation.
Belong To The Wind marks Forager Records' debut release: A lovingly curated collection of crooning psychedelic folk and soul songs gathered from American 45s of the 1970s. The compilation features 10 songs from 10 different acts, each with an indelible story of love, loss, loneliness, and an unrelenting desire to shake the confines of routine existence.

This LP aims to shed light on the more opaque cuts of these brooding artists. Many of these songs were recorded at the early stages of a career, at a time when experimenting and searching are pursued with reckless abandon. As a result, these songs are aggressively honest and uncompromising. Many have a distinct sense of the lo-fi DIY variety. Others are polished in production. Some are minimal, tentative and vulnerable. What all of these songs share, is a transportive quality. An uncanny ability to take a captive listener on a search for the soul, and a journey into the bellowing fields of easy reflection.

Sit back and enjoy a soft trip through the hazy milieu of a loner's mind.

If you're enjoying this compilation, there's a very good chance that you would love this special guest mix they did for the marvelous Morning Glory show on Soho Radio.

We've also teamed up with Forager to press an STP exclusive edition. It's a beautifully fragile folk daydream recorded in 1971 and unreleased until now. Flight is available to pre-order on our exclusive Purple vinyl, limited to 200 copies. 
-------

Sudan Archives  - Sudan Archives
23 year-old violinist and vocalist, Sudan Archives writes, plays, and produces her own music. Drawing inspiration from Sudanese fiddlers, she is self-taught on the violin, and her unique songs also fold in elements of R&B, and experimental electronic music.

Stereolab - Peng!
Originally released in 1992, Peng! is the debut full-length album by sonic experimentalists Stereolab. Sometimes jam-packed with thundering keyboards and driving drums, at other times ethereal, airy and light, Peng! captures this thinking man's band at the early stages of its prolific career. Limited Clear Vinyl.

Various - Thai? Dai! : The Heavier Side Of The Luk Thung Underground
The heavier side of the luk thung underground. The follow up to Finders Keepers fastest selling and most sought after 45, the jaw dropping doppelganger sab-jam from sukothai psych rocker Sroeng Santi - a dysfunctional slice of outside punk funk complete with bottles and bells breakdown - 'Thai? Dai!' presents 14 slabs of the heaviest thai funk and psych rockers ever committed to vinyl.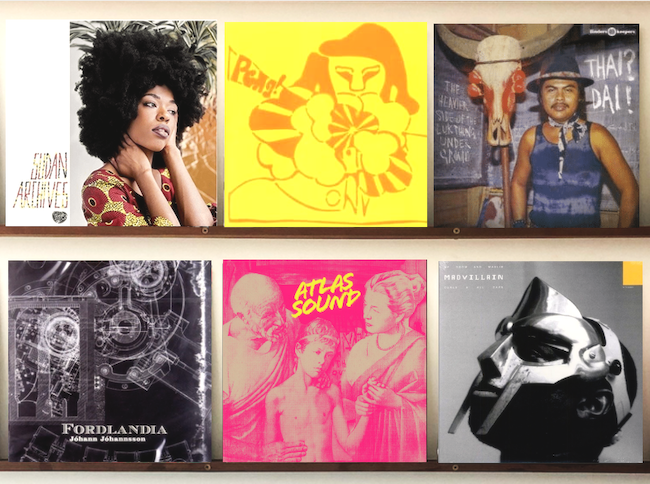 Johann Johannsson - Fordlândia
Originally released just as Jóhann's star was rising in the world of modern composition, Fordlândia is a beautiful meld of strings and electronics, with two themes running throughout; "This album is like a film with two separate story lines that at first don´t seem to have a lot to do with each other, but actually they do," said Jóhann at the time.

Atlas Sound - Let the Blind Lead Those Who See But Cannot Feel
Reissue on 4AD. A​tlas Sound is the solo moniker of Deerhunter frontman / provocateur Bradford Cox. It is also the earliest incarnation for his musical adventures. Although this is the Georgian's debut album, the genesis of this music can be traced back to when Bradford was in sixth grade.

Madvillain - Curls & All Caps
Repress of the second single from MF DOOM & Madlib's album Madvillainy. This includes two non-album tracks which are both instrumentals. Side A: The Illest Villains (Remix), All Caps (Vocal, Instrumental), Side B: Scene Three, Curls (Vocal, Instrumental).


Check all our recent restocks here
-------
PRE-ORDERS
The Heads – Relaxing With… (Silver Jubilee Edition)
Limited to 700 Silver vinyl copies. It's 25 years since the first Heads album was released. Rooster announce an anniversary reissue. They also got the Radio 1 sessions from the time remastered, and re-cut along with the huge b-side to their Television 7" Jellystoned Park. So there you have it, a double vinyl silver jubilee reissue of a fantastic debut album!

PJ Harvey - White Chalk
PJ Harvey continues her reissue campaign with her seventh studio album, White Chalk. The album was produced by PJ Harvey, Flood and John Parish and originally released in September 2007. Once again a collection of unreleased demos accompany the studio album.


Ian Carr's Nucleus - Roots
Roots from Ian Carr's Nucleus is a true classic. This is seriously thick, funky-prog jazz-rock heaven. Originally released on Vertigo in 1973, other than a couple of versions at the time for other territories, Roots was never re-pressed since so it's gone on to become another one of those impossible to find records. Finally available again thanks Be With Records.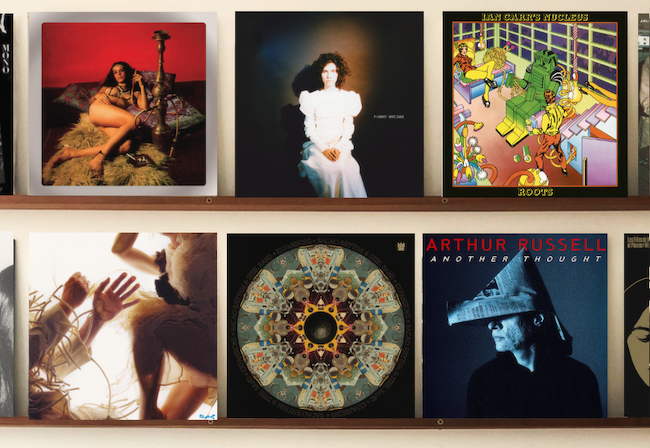 LUMP - Animal (Coloured Vinyl)
Limited edition indies turquoise and white swirl vinyl, housed in a single sleeve jacket. LUMP is the product of Laura Marling and Mike Lindsay. LUMP's second album Animal will be released on 30th July 2021 on Chrysalis Records & Partisan Records. Also available on deluxe heavyweight 180g black vinyl, housed in a gatefold jacket with a die cut slipcase, lyric poster and sticker pack.

Bacao Rhythm and Steel Band - Expansions (Coloured Vinyl)
Deep Emerald vinyl. Steel Drum covers that span genres and range from mega hits to album cuts, they make them their own with their unique approach to the traditional steel pans of Trinidad and Tobago via Big Crown Records.

Arthur Russell - Another Thought
Another Thought was the first collection of Arthur Russell's music to be released after his death in 1992. Released in 1993 on Point Music it marked the beginning of nearly 30 years of work to let the world hear the enormous archive of unreleased recordings Arthur left behind. Be With Records revisits this first compilation for a new gatefold double vinyl

 
Here's our full list of pre-orders


-------

You can also scan this code, or click here for our weekly new releases playlist on Spotify.
Updated every Friday!